Descrição do produto
 Yueda automatic pipe longitudinal straight seam welder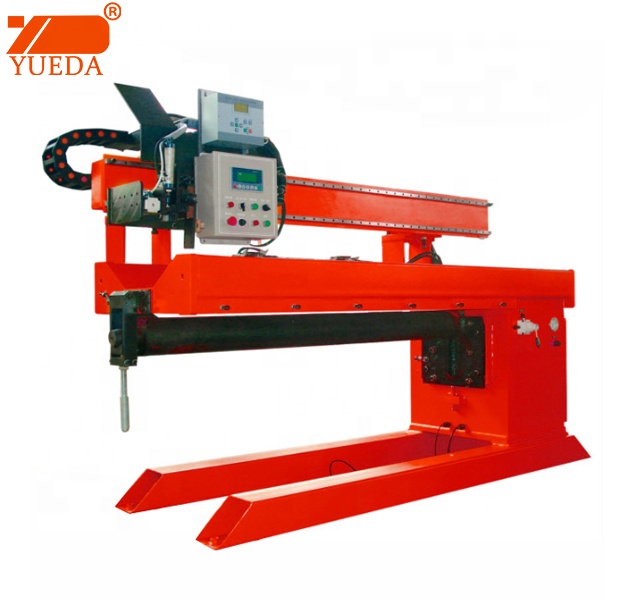 Product description of automatic pipe longitudinal straight seam welder:
The pipe straight seam welding machine also called as pipe longitudinal seam welding machine which is the professional welding machine for pipe striaght seam/longitudinal seam,with  pneumatic keyboard type clamp, rocker arm swing copper pad mandrel, easy loading and unloading, adjustable clamping force, high production efficiency,suitable for welding of pipe or cylinder workpiece with thickness from 1-6mm, diameter from 80 to 1000mm, pipe length from 1000-3000mm. With TIG or MIG welding mode, easy operation and high efficiency. 
Main parameters of automatic pipe longitudinal straight seam welder:
Model
ZF500
ZF1000
ZF1500
ZF2000
ZF2500
ZF3000
Welding workpiece length(mm)
≤500

≤1000

≤1500

≤2000

≤2500

≤3000

Clamping workpiece thickness(mm)
0.5-3.0
0.5-3.0
0.5-3.0
0.5-6.0
0.5-6.0
0.5-6.0
Clamping workpiece diameter(mm)
80-800
115-700
155-700
185-700
205-700
245-700
Welding torch travel speed
100-1800mm/min
Weldig torch lifting stroke 
100mm
Input control voltage 
1 phase 220v,50hz/60hz
Input welding voltage 
3 phase 380v-460v, 50hz/60hz
Applicable max welding current
500A
Rated welding machines: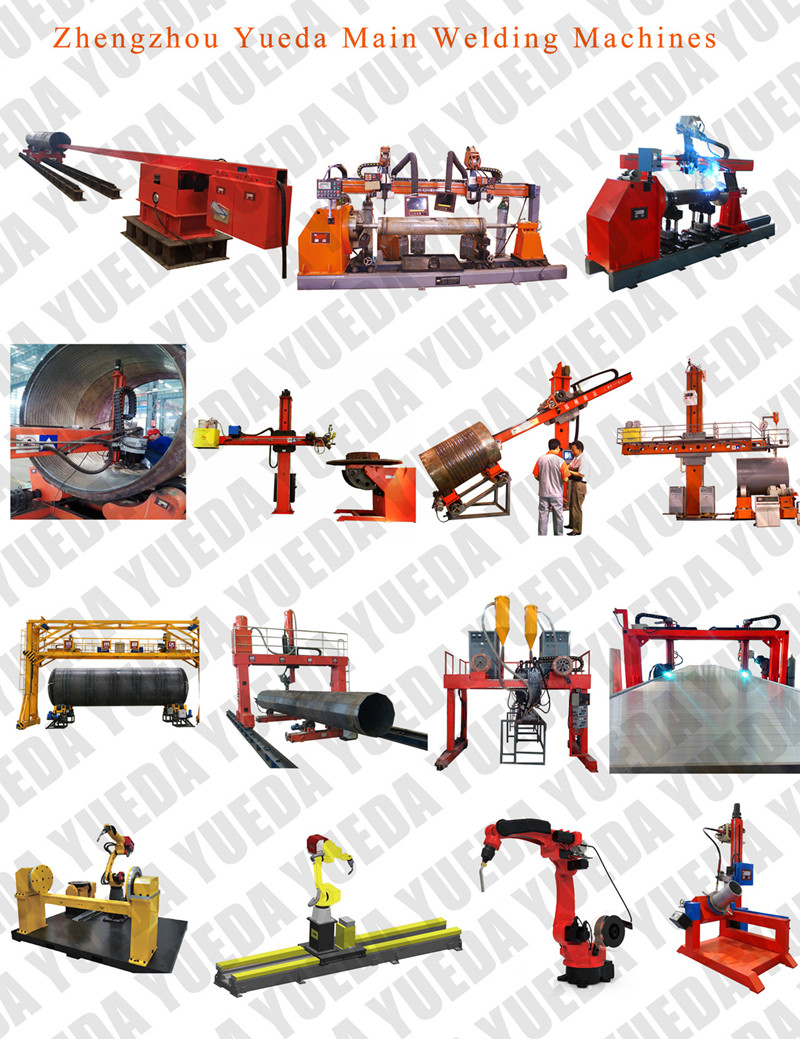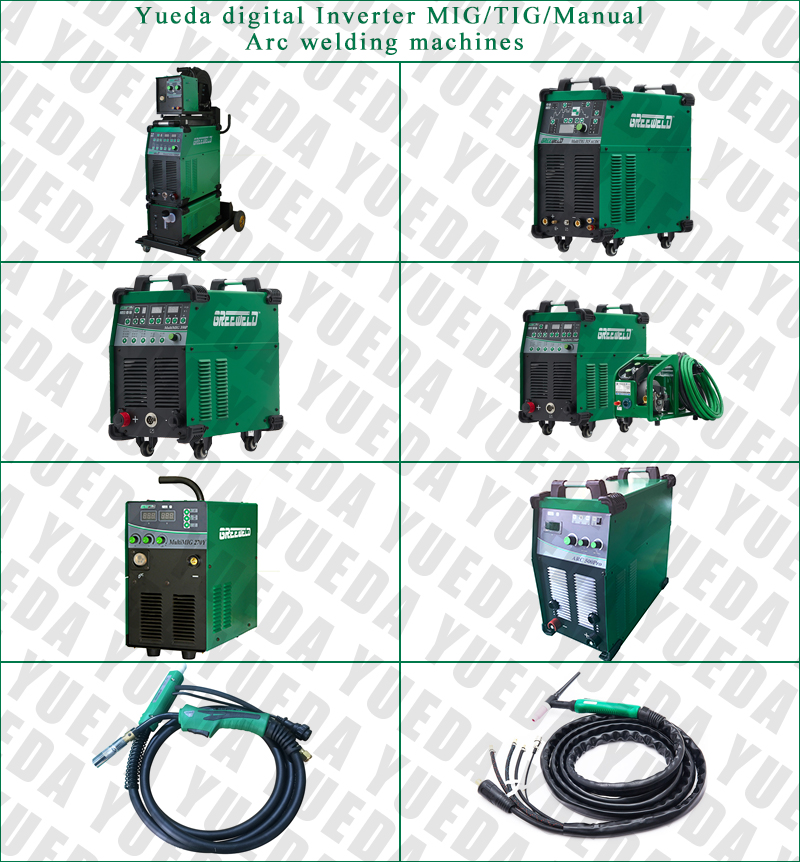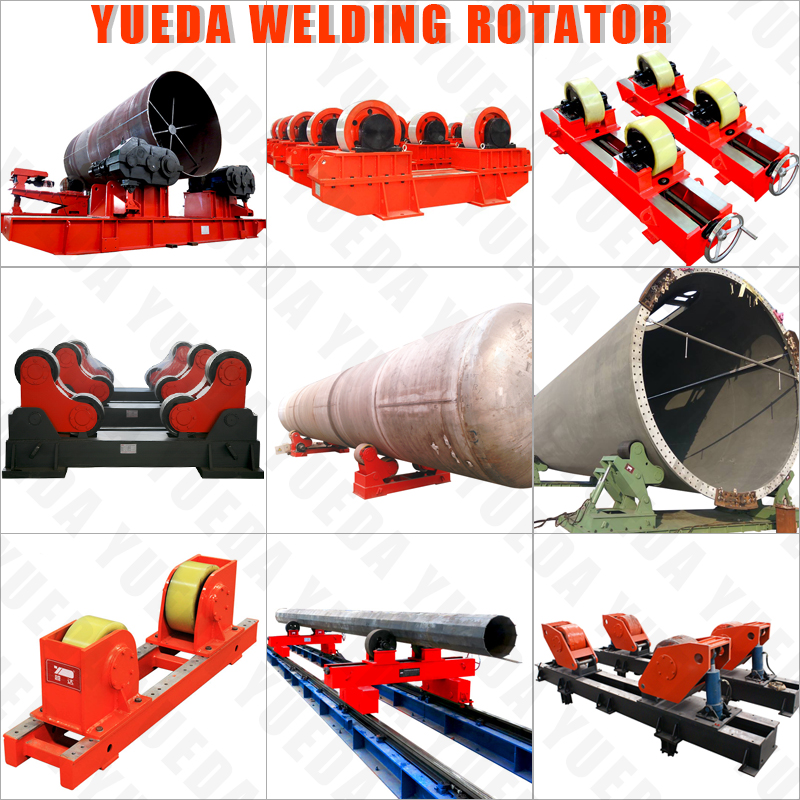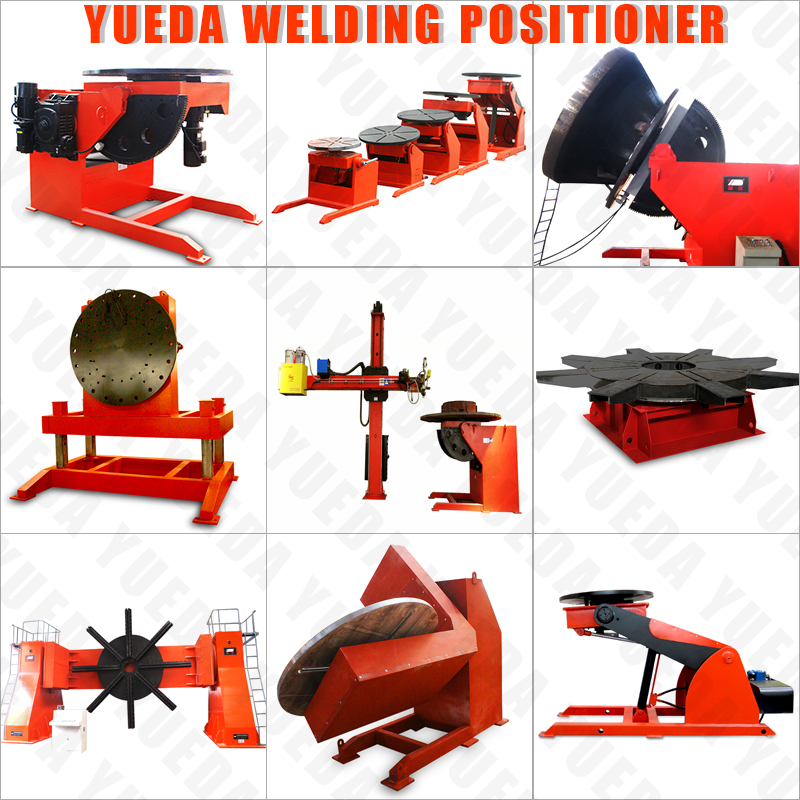 Zhengzhou Yueda Technology Equipment Co., Ltd (former name is Zhengzhou Yueda Automatic Welding Equipment Co., Ltd) which is located in Zhengzhou city, Henan province. As a high-tech enterprise with 20 years' history and specializing in the design and manufacture of automatic welding &cutting equipment. Our company is committed to provide clients at home and abroad with one- stop automatic welding and cutting solutions.
Our main products: welding manipulator/column boom series, welding rotator series, welding positioner series, automatic welding machine, robot welding station, automatic cutting machine series, electric tower rod welding machine series, surfacing cladding machine series, wind tower production line, special tanker production line, pressure vessel production line, tower rod production line, grinding machine series, painting production line, etc. Products are widely used in tower rod manufacturing, petrochemical, pipeline, pressure vessel, steel structure, mechanical manufacturing connection, power engineering, automobile manufacturing, wind tower manufacturing and other industries. Some products exported to Europe, the Middle East, southeast Asia and other places, product quality and performance by the user's praise and trust.
In order to provide outstanding service to our clients, we continue to introduce talents, increase equipment technology R&D investment and set up professional technical teams. Welcome your inquiry, welcome to visit us. One stop solution is ready for you!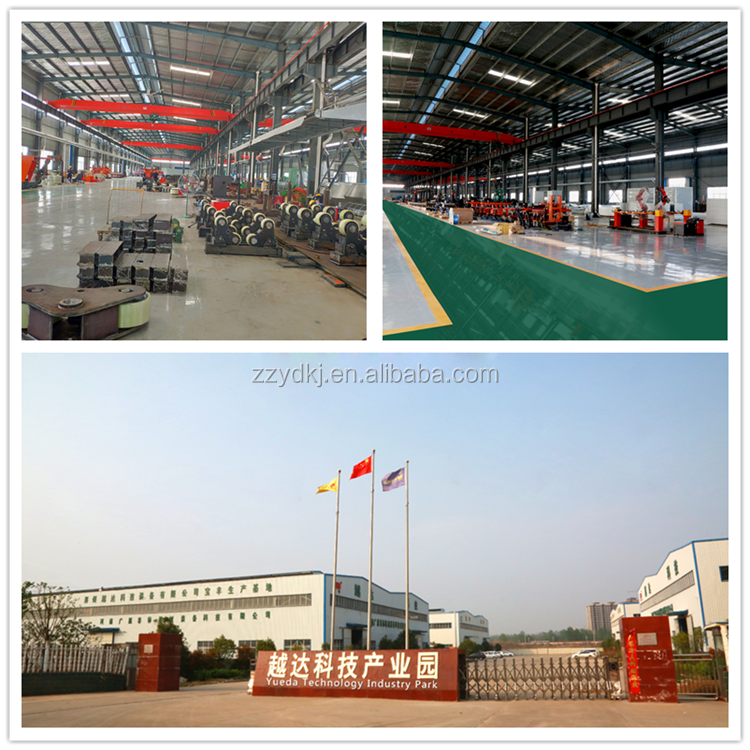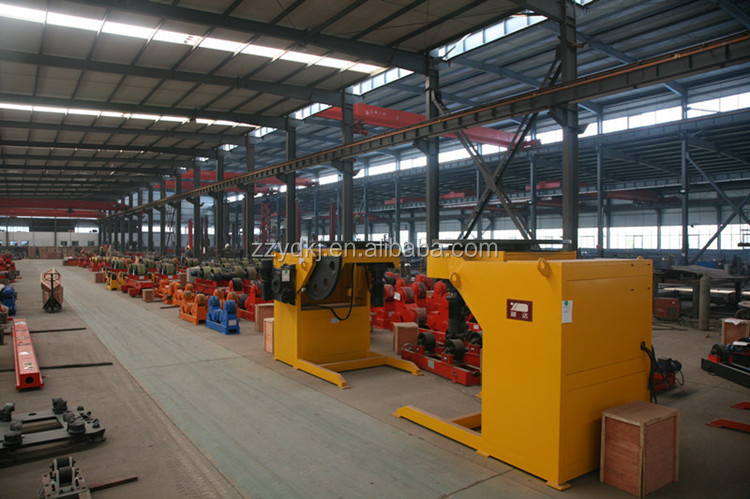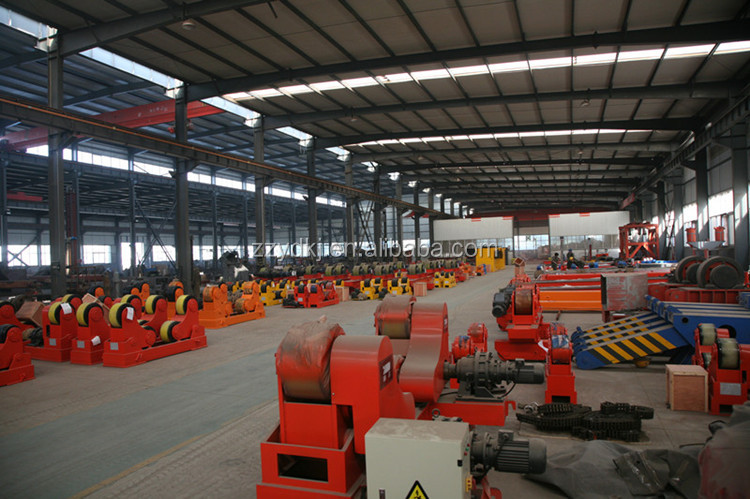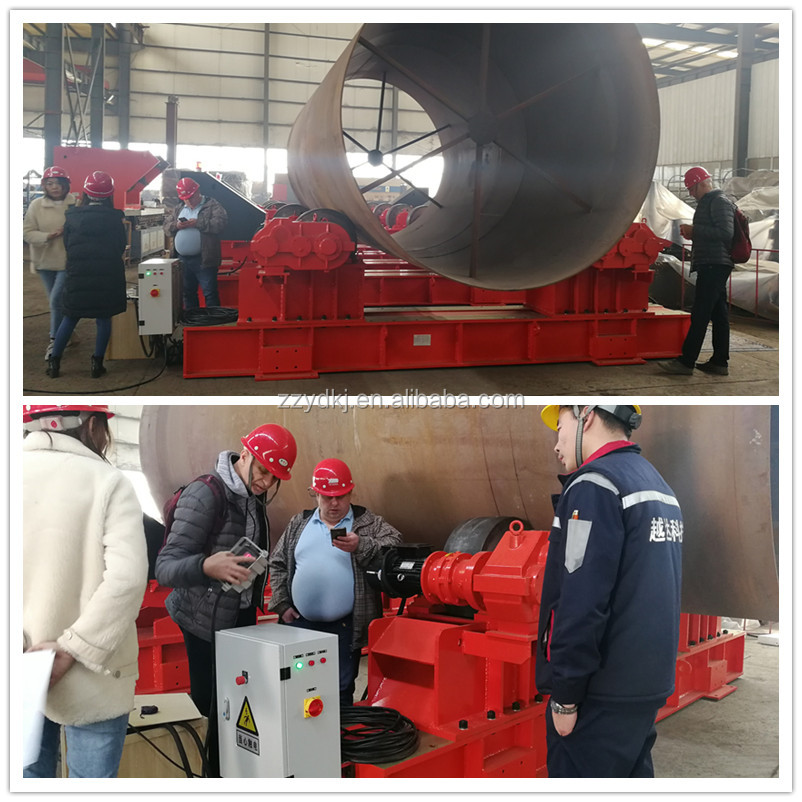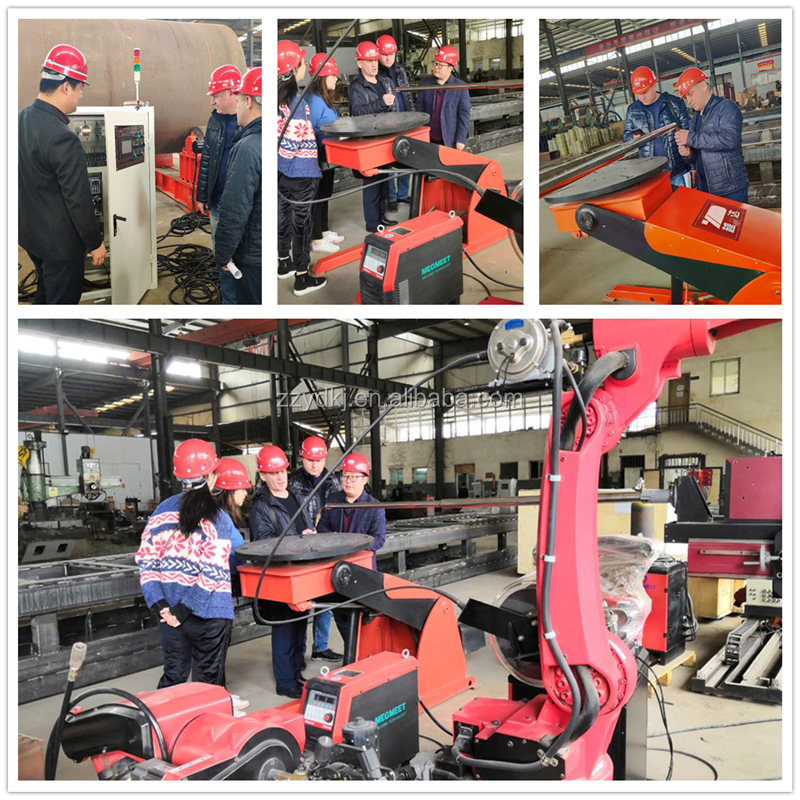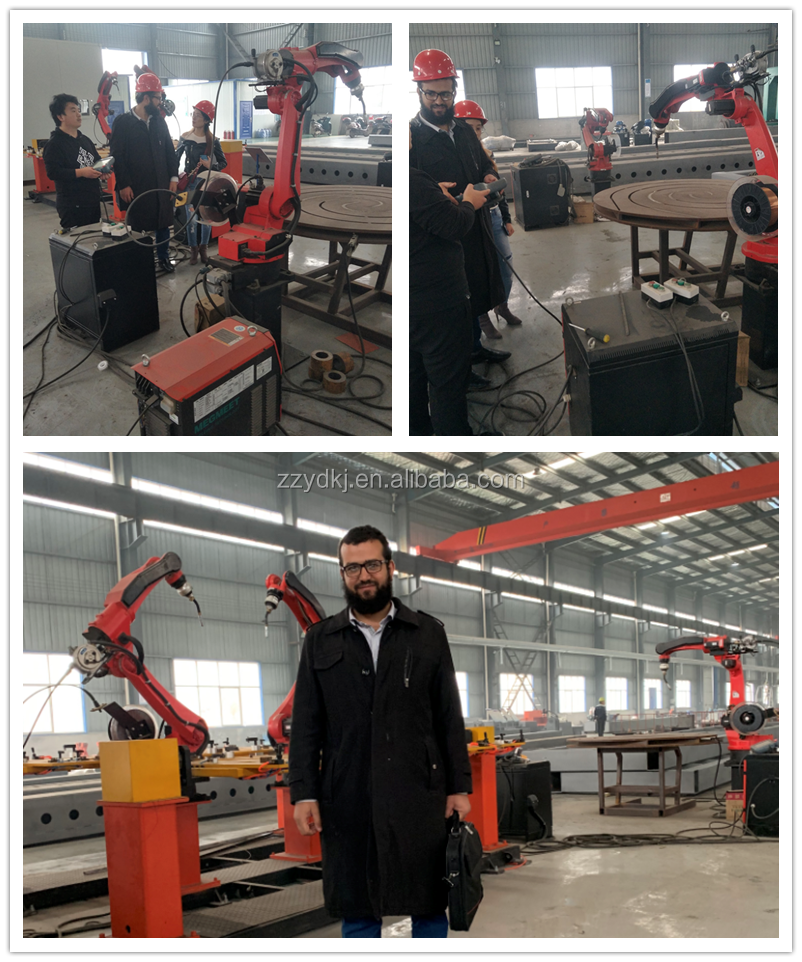 Professional services are ready for you
Pre-sale
1. We can offer relatively competitive quotes. (Our company has its own factory.)
2.Technical personnel has strong design and technical capabilities, and can be designed and manufactured according to customer requirements.
3. You can visit the factory at any time and provide free hotel accommodation during your visit.
Sale
1. Follow the goods in time.
2. If necessary, technicians can go abroad for installation, training and repair.
After sale
1. One year warranty or negotiable warranty time.
2. Free replacement of spare parts during the warranty period.
3. Lifelong enjoyment guidance service by email, phone.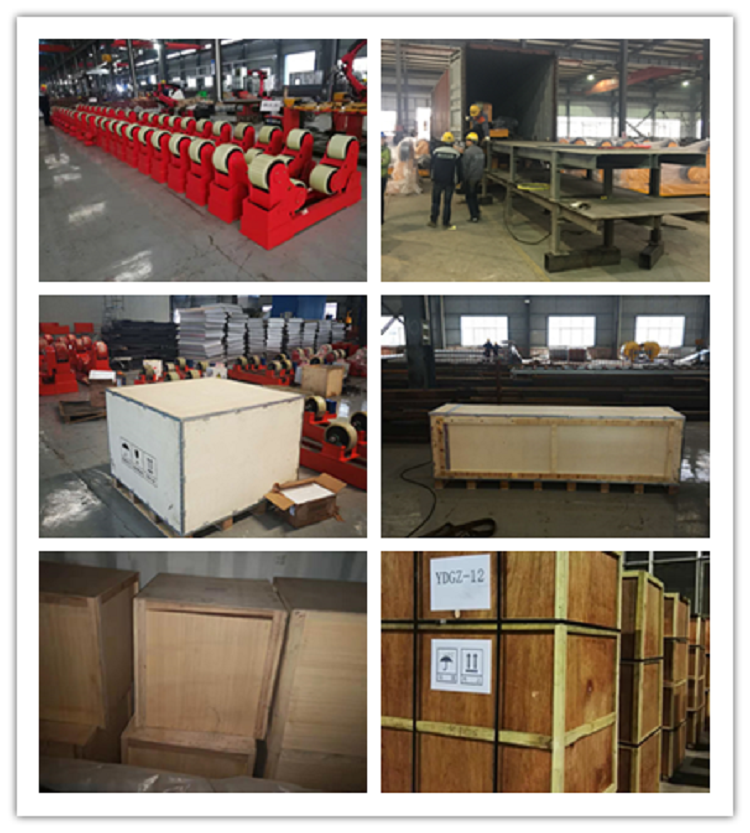 Q: Are we a trading company or a manufacturer?
A: We are a manufacturer with 20 years production history.

Q: How can you guarantee the product quality?
A: We have strict quality control system in the production process and we welcome clients come to visit us to detect the product quality before delivery.
Q: Can machines be customized?
A: Yes, OEM and ODM are available.

Q:Where is your factory located? How can I visit there?
A: Our factory is located in zhengzhou,henan Province,China.You can fly to zhengzhou airport directly.All our clients, from home or abroad, are warmly welcome to visit us!

Q: How long is the warranty period?
A: One year or negotiable.

Q: How long is your delivery time?
A: Usually within 30 days since we received deposit payment, and some standard models of machines in stock.

Q: What's your payment terms?
A: Negotiable, but usually L/C and TT.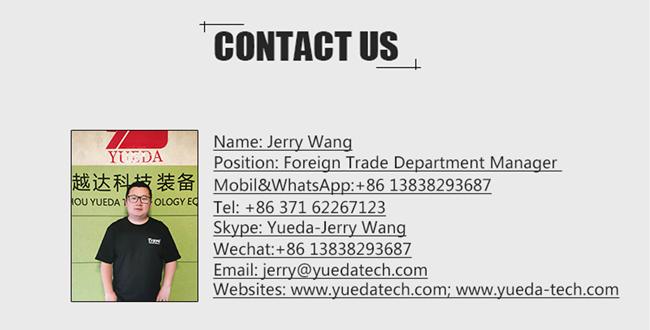 Welcome your inquiry, welcome your visit!One stop solution is ready for you! 
Zhengzhou Yueda Technology Equipment Co., Ltd.
Zhengzhou Yueda Technology Equipment Co., Ltd (o nome anterior é Zhengzhou Yueda Automatic Welding Equipment Co., Ltd), localizado na cidade de Zhengzhou, na província de Henan. Como empresa de alta tecnologia, com 20 anos de história e especializada no design e fabricação de equipamentos de automação de soldagem e corte e revestimento. Nossa empresa está comprometida em fornecer aos clientes em casa e no exterior com soluções automáticas de soldagem e corte automáticas de uma parada. Nossos principais produtos: Solding Column & Boom Série, Série Rotadora de Soldagem, Série de Posicionador de Soldagem, série automática de máquinas de corte, série de máquinas de soldagem de haste de torre elétrica, série de máquinas de soldagem de superfície, linha de produção de torre de vento, linha de produção de veículos especiais, linha de produção de pintura e robô Integração do sistema. Nossos produtos são amplamente utilizados na fabricação de hastes de torre, petroquímica, oleoduto, embarcação de pressão, estrutura de aço, conexão de fabricação mecânica, engenharia de energia, fabricação de automóveis, fabricação de torre eólica e outras indústrias. Alguns produtos exportados para a Europa, Oriente Médio, Sudeste Asiático, EUA, Austrália, México, Brasil, África e outros lugares. Qualidade e desempenho do produto pelos elogios e confiança do usuário. Bem -vindo sua pergunta e visite!
Nome da empresa: Zhengzhou Yueda Technology Equipment Co., Ltd.
representante: WANG YAN
Produto / Serviço: Rotador de soldagem , Posicionador de soldagem , Manipulador de soldagem , Máquina de soldagem de pórtico , Robô de soldagem , Soldador Industrial Inverter
capital: 60000000RMB
Ano de Fundação: 2004
Volume anual de vendas (milhões EUA $): US$2.5 Million - US$5 Million
Porcentagem de exportação: 11% - 20%
Volume de Compra Anual Total (EUA $ Milhões): Below US$1 Million
N º de Linhas de Produção: 8
Número de Funcionários de I&D: 41 -50 People
Número de Funcionários QC: 11 -20 People
Serviços OEM Desde: yes
Tamanho da Fábrica (metros Quadrados): 30,000-50,000 square meters
Localização da Fábrica: Xingbao 1st road, Industry Cluster District of Baofeng County, Henan Province, China
Pessoa De Contato: Mr. ANDY
Número De Telefone: +86-0371-62267123
Enviar e-mail para este fornecedor